Shopping Cart
Your Cart is Empty
There was an error with PayPal
Click here to try again
Thank you for your business!
You should be receiving an order confirmation from Paypal shortly.
Exit Shopping Cart
| | |
| --- | --- |
| Posted on October 21, 2014 at 7:10 AM | |
Only 4 days left till SAFF, the Southeastern Animal Fiber Festival and Pygora Goat show. Life on a farm is full of twists and turns. Sometimes it's full of joy and wonder, sometimes there is disappointment.
Our horse hurt her shoulder this summer and there hasn't been much improvement so she is going to see the vets at UT (Unniversity of Tennessee) for some chiropractic care and possible xrays.
Also, our dear old Angora goat, Yogi, has been having trouble standing for long. In the last week his back legs have given out on him. He can no longer stand. He is alert and eating but a goat needs to be able to move around and forage. So with heavy heart we must say good bye for now. We will hold him tight and love him.
It's been a hard decision but we have decided not to go to SAFF this year. Looking out at the goats, they look like they are all dressed up but have no prom to go to. We have decided to turn lemons into lemonade. This weekend we will be shearing everyone. Then the ladies will get turned into the pasture with Buckley. Let the breeding begin. We're sure this will help Buckley with the loss of his friend Yogi.
There are pictures of everyone now on the fiber page. If you're interested in someone's fleece please send me a note and I'll let you know if it's still available.
We'll be taking kid deposits for spring 2015. A $100 non-refundable* deposit is required to place your name on our kid waiting list. Order on the list to chose your kid is determined by when your deposit was received. 100% of your deposit will go towards the purchase price. * If we don't have a kid available for you or if the kid doesn't pass the health exam, then the $100 deposit is refunded. More information available under Pygoras, kid deposit.
Thank you everyone for following my blog.
| | |
| --- | --- |
| Posted on October 15, 2014 at 8:00 PM | |
Only 10  days until the show!
Delilah is gorgeous! Her fleece is 7" long, shiney and soft. Evan is close behind at 6 1/4", which is real long for a baby. Notice in the photo below these measurements are straight from the goat, not brushed or pulled straight.
As of today, Delilah is entered in colored adult doe, Fiona in colored yearling doe, Emily & Gem in colored kid doe, Figment & Evan in colored wether, and Gucci in white wether. Chanel isn't going. Her fleece is holding but not hanging as I'd like with her ringlets.
We've decided to leave our buck, Buckley, at home. His pasture mate isn't doing well (old age problems) so we think they should stay together so that the old friend isn't stressed.

| | |
| --- | --- |
| Posted on September 24, 2014 at 6:30 PM | |
Two weeks ago I picked up 2 new additions to the farm, Evan and Emily, both 7 mos old. Now that they are out of quarenteen they are acclimating to life with Gucci and Gem. Thank you Bonny Collard for letting them come home with me. They are beautiful.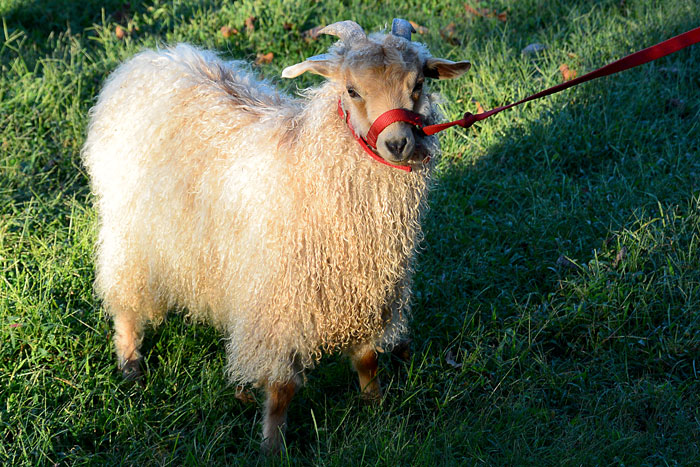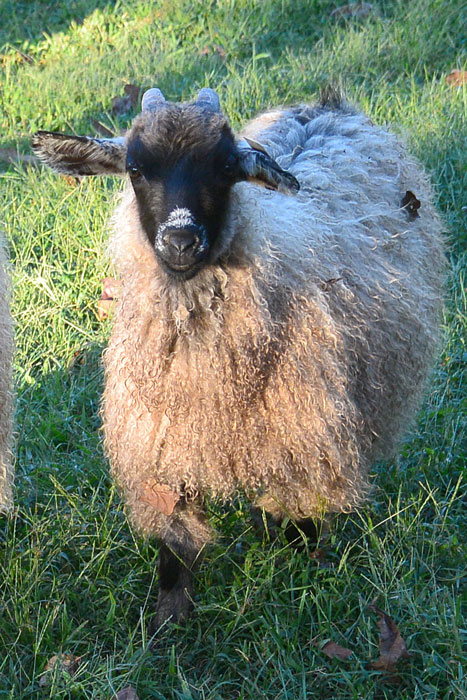 Our younger granddaughters came by to halter train the kids. They did very well but some were a bit resistant. Alexis is 7 and Alaina is 5.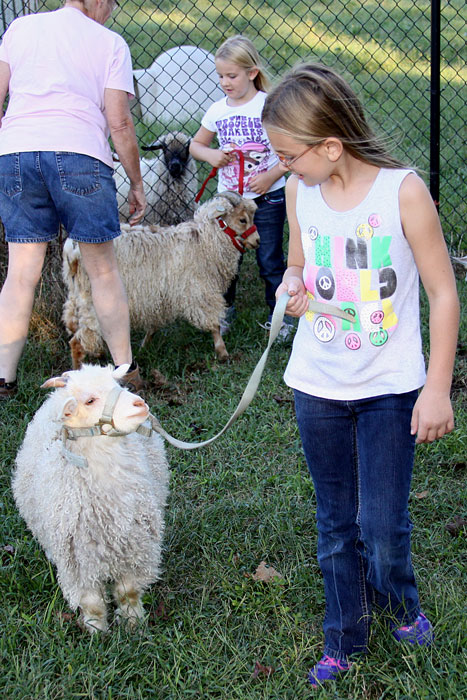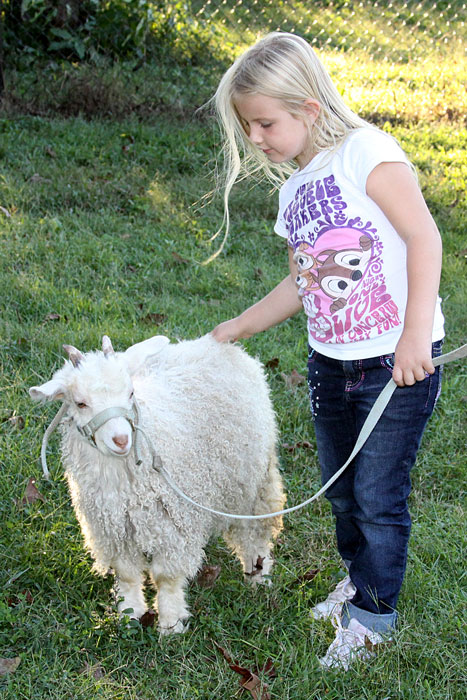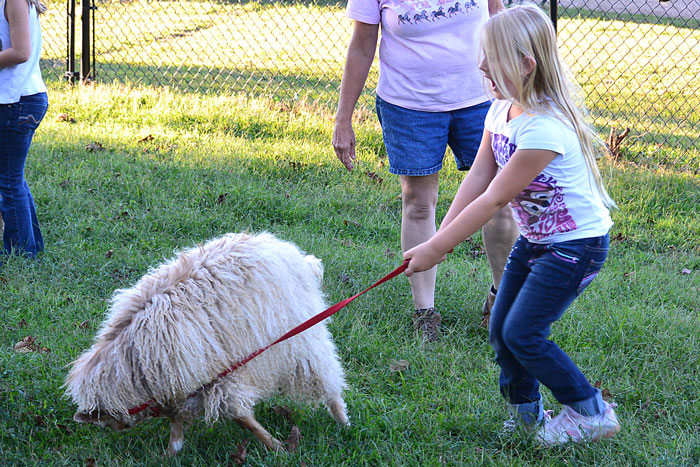 Alexis has become the "Goat Whisperer". She is so gentle and talks to them quietly.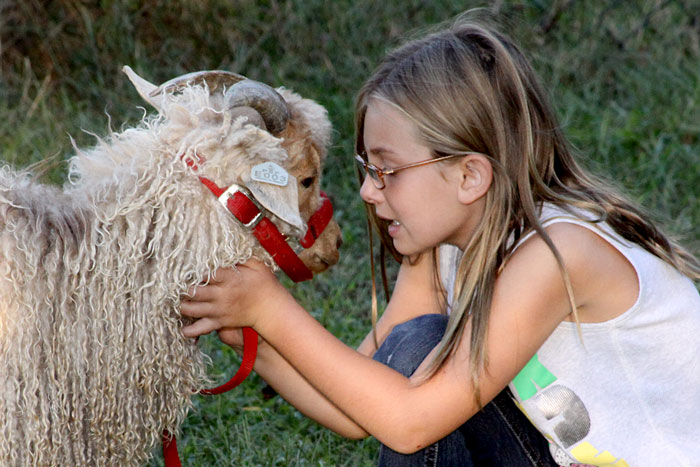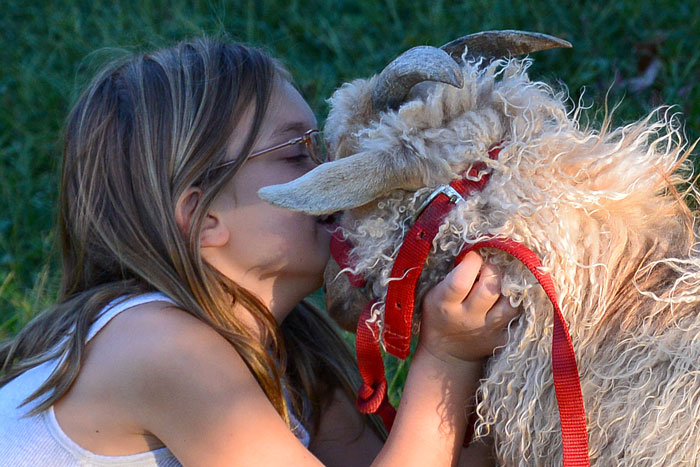 Anastasia is the first to be ruled out of the show. Her coat started matting at her legs and the rest of the fleece was what I call "clumpy". Kind of stuck together at the ends. So off with her coat! She is actually quite happy to be rid of all that hair while it's still hot during the days. Once washed and processed, her fleece will  make lovely yarn.
Chanel might be next to be sheared. Her fleece is starting to clump too. Delilah's fleece is gorgeous!!! If it can just hold on for one more month. Evan and Emily have some cockleburrs in their coats that I'm slowly getting out. Everyone else is looking good and on schedule.

| | |
| --- | --- |
| Posted on September 4, 2014 at 5:30 PM | |
It's the 8th day of preparing for the show. Started Figment on his halter training and he did much better than expected. With a little encouragment he walked right along with me. Fought me going over his coat at first but eventually stood still. He will need to stand still for the judge to go over him. I was able to lift all his feet and check his teeth with no fight.
Figment has some scurs developing on his head. These are remnants of where he would have horns if he hadn't been dis-budded. Unfortunatly these are curling back towards his head and must be removed before they cause problems. They are cut away gradually like you would a dog's nail. So I assembled all that I might need: hoof nippers, OB surgical wire, gloves and quick stop powder in case there was any bleeding. Well I quickly ascertained that the only blood was going to be mine! This is not a job for one person. I did get a bit off one tip but not without doing some goat surfing on his back. This will have to wait for another day when I can get help.
Here is a pic of how Delilah's fleece is doing. She has a "B" type. Checking daily to see if I have to shear her. So far so good but still a ways to go till SAFF.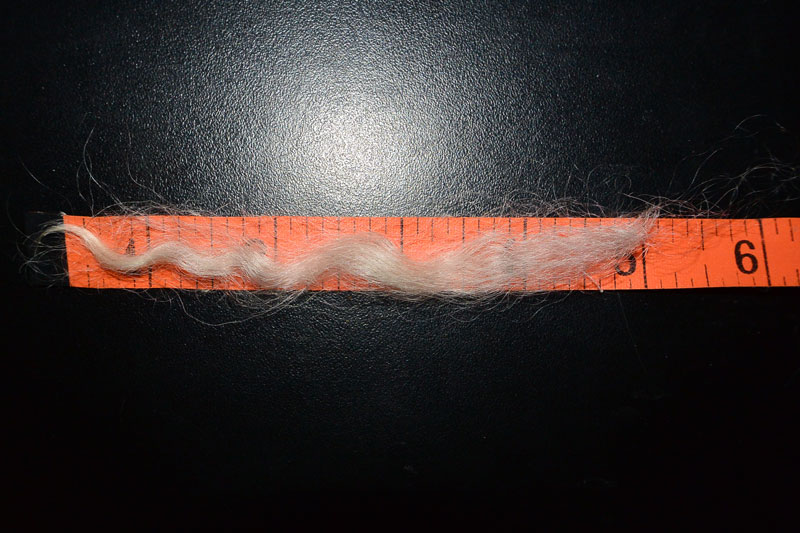 | | |
| --- | --- |
| Posted on August 28, 2014 at 10:45 AM | |
Yesterday was the first day of getting ready to show. We will be showing the Pygoras at the Southeastern Animal Fiber Festival (SAFF) in Asheville, NC on Sat. October 25, 2014. Though we have shown sheep and goats in the past, this will be our first time showing the Pygoras.
Though there is almost 2 mos till the show, there is a lot that goes into getting ready for a show. My intention here is to show what is all involved. Also, since this is somewhat new to us, we want to show what works for us and what doesn't. I've put the word out about the show and have asked for help from some of the top breeders and judges that have been showing in Oregon and Michigan.
I've taken photos of what our Pygoras look like today. As the weeks go by I'll determine who will be shown depending on how their coats look and how their training progresses. This should be fun!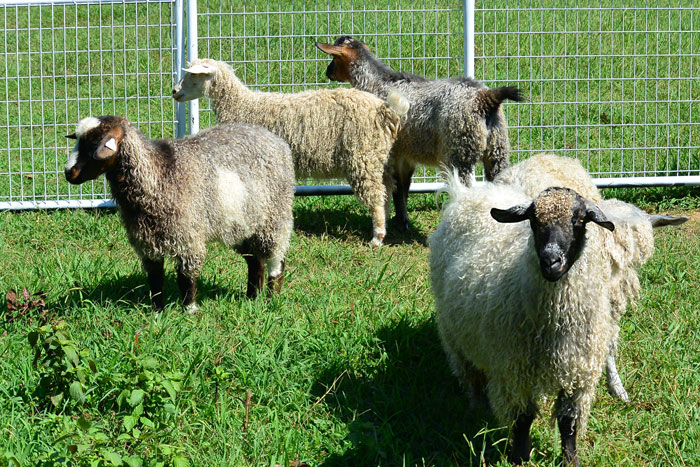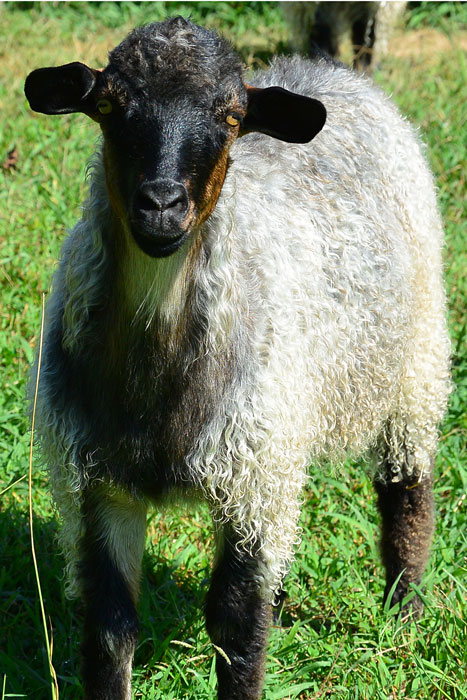 Figment, a wether, was sheared the beginning of summer. He has lost all coat in his chest so not sure he will grow enough for show.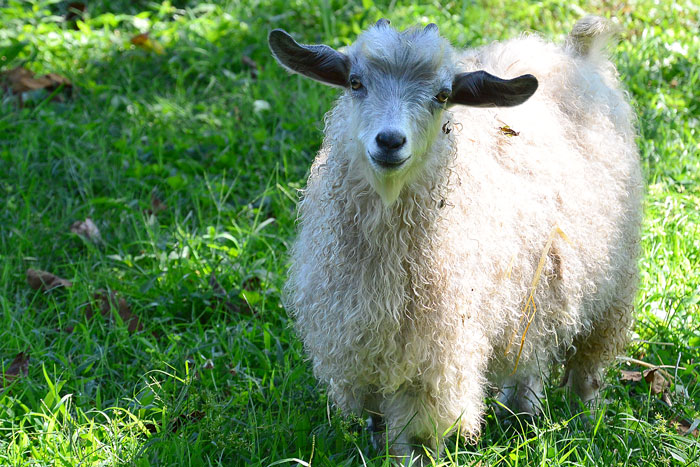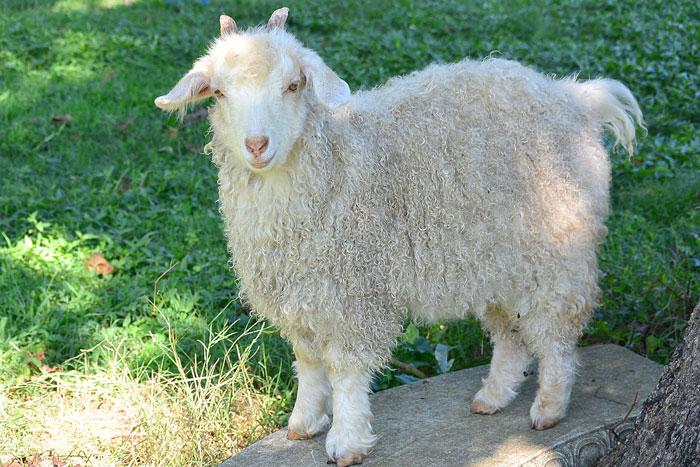 Here is Gem, a doe kid, and Gucci, a wether kid. Their coats are coming in beautifully so I'm expecting to take them to the show. Gucci has already started his training on lead and is doing very well.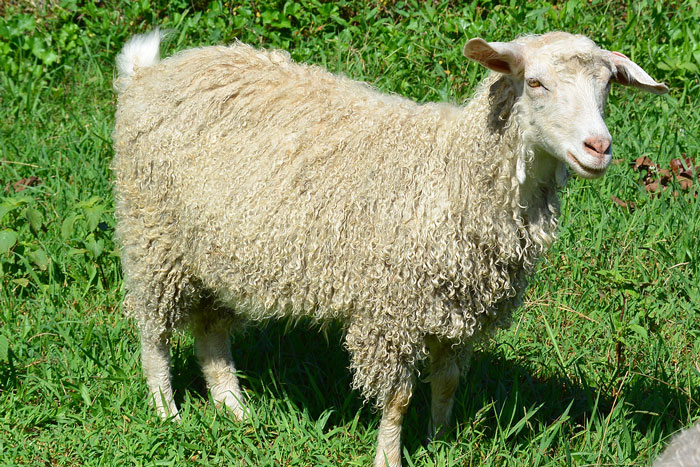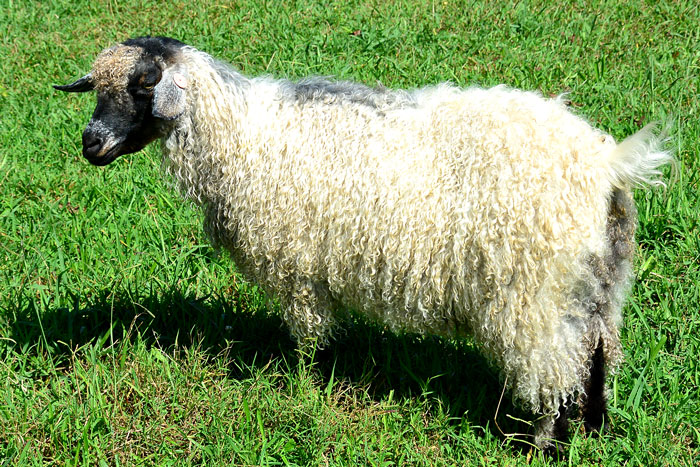 Here is Chanel and Delilah. Both does. Chanel's coat is coming in nice but very dirty. Delilah is in full coat. So much so that she might need to be sheared before the show (it might start to mat if I wait too long). If so, then her fleece will go in the fleece show/sale.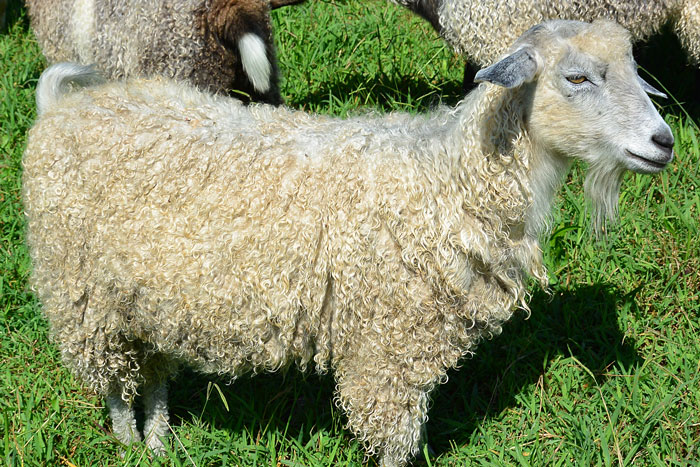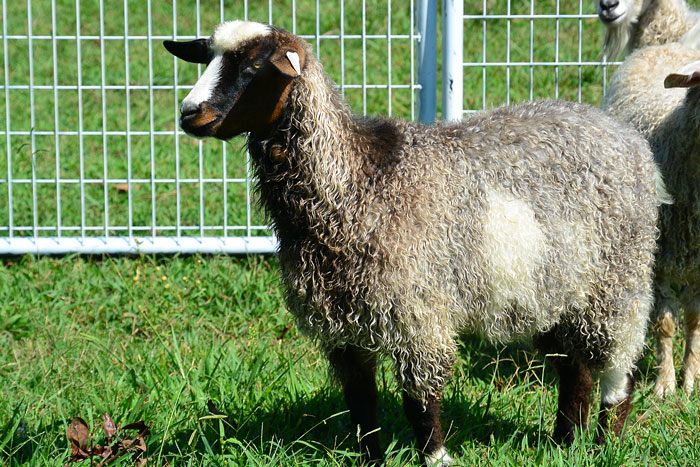 Anastasia and Fiona. Both does. Anastasia's fleece has the most grease of everyone so has a tendency to pick up more dirt and clump. Will have to pick thru her fleece and see how it looks. Fiona was shorn late with Figment and Buckley. Watching for more curl to return.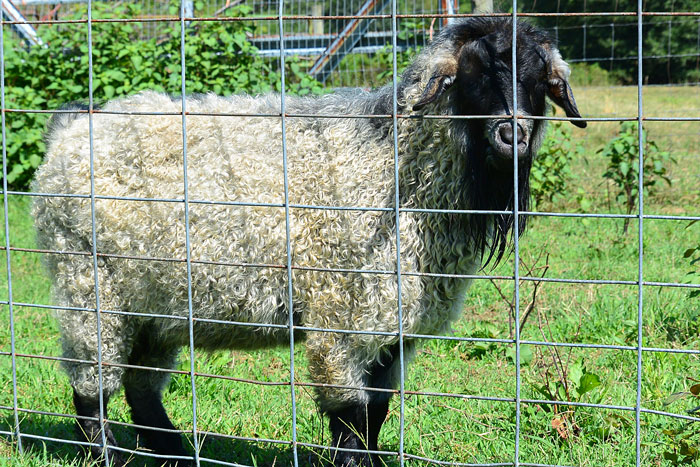 Finally, there's Buckley the buck. He needs more length to his coat but it's coming in beautifully. But he's also smeeelllyyy!!! Breeding season is coming up and he is dosing himself in his cologne. This is to be expected with bucks.Normally we would start breeding the beginning of Oct. but with the show he might have to wait till we get back. When we breed we shear everyone first. This prevents the buck from ruining the girl's coats and helps to keep him cool.

So there you have it. Our beginning of the Chronicles of Showing. In the weeks to follow I'll keep you abreast to how everyone is looking, what we do to get ready and how I'll make my decission on who is going to the show.


Only 4 days left till SAFF, the Southeastern Animal Fiber Festival and Pygora Goat show. Life on a farm is full of twists and turns. Sometimes it's full of joy and wonder, sometimes there is disappointment.

Our horse hurt her shoulder this summer and there hasn't been much improvement so she is going to see the vets at UT (Unniversity of Tennessee) for some chiropractic care and possible xrays.

Also, our dear old Angora goat, Yogi, has been having trouble standing for long. In the last week his back legs have given out on him. He can no longer stand. He is alert and eating but a goat needs to be able to move around and forage. So with heavy heart we must say good bye for now. We will hold him tight and love him.

It's been a hard decision but we have decided not to go to SAFF this year. Looking out at the goats, they look like they are all dressed up but have no prom to go to. We have decided to turn lemons into lemonade. This weekend we will be shearing everyone. Then the ladies will get turned into the pasture with Buckley. Let the breeding begin. We're sure this will help Buckley with the loss of his friend Yogi.

Following are pictures of everyone now. If you're interested in someone's fleece please send me a note and I'll let you know if it's still available.

We'll be taking kid deposits for spring 2015. A $100 non-refundable* deposit is required to place your name on our kid waiting list. Order on the list to chose your kid is determined by when your deposit was received. 100% of your deposit will go towards the purchase price. * If we don't have a kid available for you or if the kid doesn't pass the health exam, then the $100 deposit is refunded. More information available under Pygoras, kid deposit.

Thank you everyone for following my blog.


0

/